Product Info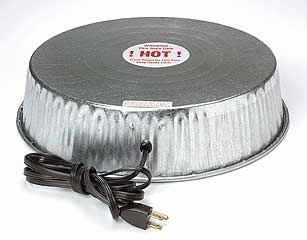 This product is currently $5.00 off the regular price!
Offer valid through 11-30-2018. Some restrictions may apply.
SKU: 10000066
Manufacturer: Miller Manufacturing Company
Model: HB130
This electric water heater base helps prevent water from freezing in temperatures as low as 10 degrees Fahrenheit. Designed for use with double wall fountains and other metal containers. Perfect for outdoor use in a dry sheltered area. Cord should be protected from animals and used with a ground fault protected plug. Unit will not draw electricity until temps drop below freezing. Draws just over an amp. Uses 125 watts.