Product Info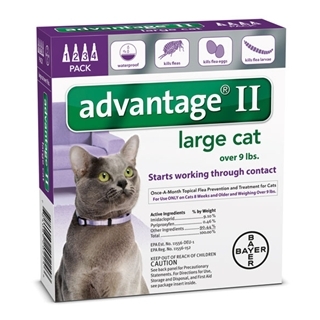 This product is currently $49.99!
Offer valid through 08-31-2018. Some restrictions may apply.
SKU: 06648139
Get fast flea relief for your pet with Bayer Advantage II Flea Treatment for Large Cats. The treatment kills fleas in all stages of life starting within the first hour. Designed to kill 98-100% of all existing fleas within 12 hours of initial application and help prevent future infestations on your cat. Formulated to treat only cats 8 weeks or older and weighing over 9lb once a month. Contains four monthly treatments.
Available for purchase in AL, CT, DE, FL, GA, IL, IN, KY, LA, ME, MD, MA, MS, NH, NJ, NY, NC, OH, PA, RI, SC, TN, VT, VA, WV.